Password Cracking Penetration Testing
The Security Analyst Exercises / Password Cracking Penetration Testing contains the following Exercises:
Extracting Administrator Passwords Using L0phtCrack
---
The Virtual Private Cloud for this Lab set utilizes:
---
Security Analyst Exercises are available as part of the following subscription: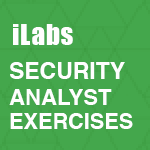 Each subscription provides
6 months access to 15 Different Exercises.
Each exercise contains a Scenario, Objectives, and individual step by step tasks to guide the user through all steps necessary to complete the exercise. The Penetration Testing Exercises are designed to give the user an ultimate hands-on experience. Each exercise category above has it's own Virtual Private Cloud that comes preconfigured with Vulnerable websites, Victim Machines, and the environment is LOADED with tools. Included in your network share are all the supporting tools required to practice in the Cyber Range / Lab environment.
Lab exercises are included for:
TCPIP Packet Analysis
Information Gathering
Vulnerability Analysis
External Penetration Testing
Internal Network Penetration Testing
Firewall Penetration Testing
IDS Penetration Testing
Password Cracking Penetration Testing
Social Engineering Penetration Testing
Web Application Penetration Testing
SQL Penetration Testing